Find Best
Horse Software

for Your Business

We help you find the right Horse Software for your business.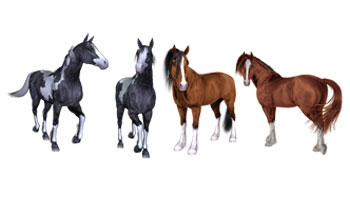 Horse Software:
Horse Software is a software that is used by horse farms and horse breeding facilities to keep detailed horse information records, track expenses, veterinary visits, training and competition results, and maintain pedigree records.
All the needs of a Breeding, Training, Boarding business can be managed by having all the information of your horses in one place.
Features and Benefits of Horse Software:
The Horse Software has several features that can benefit the user in many ways to grow their business. Some of these include:
Everything about the health, activities of horses can be tracked, manged and recorded by the horse owner.
Important moments with horse owners can be captured and shared by the service providers assuring them that their horse is in good hands.
Horse owners can stay connected with care takers, farriers, veterinarians and more by automated communication.
As horse owners are allowed to give feedback against each activity performed by care takers, it helps you improve delivery quality and ensure outstanding performance.
Group and individual tasks can be added and allocated by a comprehensive dashboard provided by the software which also help monitor task progress.
Dynamic forms can be created and your staff can collect accurate data using the horse care app. Data can be submitted when the service is back as the app works offline.
The quality issues across all areas of your equine operations can be notified instantly. It allow you to remedy quality issues before they arise through custom alert.
The service providers can access important documents on their devices instead of carrying them separately as manuals and documents can be attached with tasks.
All the record related to horse for hoof care, vaccinations, medications, dentistry, maintenance, deworming, insurance and more can be kept.
Unlimited mare and stallion records can be saved. follicles, pregnancy checks, breeding history, fertility and bookings can be tracked.
Horse profiles can be easily managed. Performance and training records are at your fingertips. The journal can be used to keep track of notes and ideas.
Expenses can be recorded for a range of categories like feed, training, sales, and more. Pictures of invoices, injuries, weight, etc can be easily attached when you add records.
All activities related to horse training can be planed. Horse shows and horse races can be scheduled which will help save the time of stable workers for managing events so they can focus on the task that will bring out the best in your horses.
Horse feeding schedules can be maintained to ensure that all your barn workers are proactive in keeping a check of fodder to ensure that horses are in good health.
A 360 degree view into all areas of your management operations can be provided with the ability to access centralized, real time facility data.
A complete visibility into your critical assets can be provided.
All your assets can be tracked and you can get automated reports on those by improved inventory management functionality.
Tracking your workforce, measuring their efficiency and obtaining accurate worker cost per activity or equipment becomes easy with advanced features provided by the software.
Customer relationships can be managed and financial management solutions can be integrated to automate payment invoicing, receiving and processing.
The software can be customized to meet specific business requirements.
Offering Horse Software?
Customers in the market for Horse Software are actively browsing on SaaSUncovered. Be certain they come across your Horse Software.
Get Listed