Find Best
Farm Management Software

for Your Business

We help you find the right Farm Management Software for your business.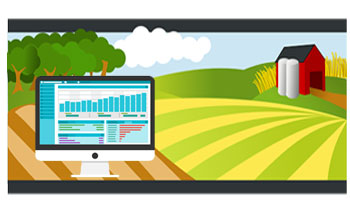 Farm Management Software
Explore best Farm Management Software for your business.
Farm Management Software:
Farm Management Software is a software that is used by farmers to centralize, manage, and optimize the production activities and operations of farms.
The farm management software platform is extensively used globally for farm, farmer, procurement, processing, supply chain and financial data management and analysis to achieve the objective of profitable and sustainable agribusiness. The software help assist both corporate as well as individual farm operators, agribusiness, contract farming companies, R&D institutions, exporters and Government agencies, Co-operatives to utilize smart agriculture to increase efficiency, production, profitability and complete traceability.
Features and Benefits of Farm Management Software:
The Farm Management Software has several features that can benefit the user in many ways to grow their business. Some of these include:
Farmers can become strategic and efficient in their daily tasks and responsibilities related to farm by using Farm Management Software. This is possible as recording and storage of farm data can be automated, Farm activities and consumption can be monitored and analyzed, and business expenses and farm budgets can be tracked.
It also support farm financial management with accounting programs, functionality of farm planning and procurement, and marketing and budgeting tools.
The functionalities such as record keeping and farm production monitoring can be tailored to the specific business requirements of dairy or cattle farms, grain farms, cannabis farms, and other types of agribusinesses.
Huge amounts of data can be collected, integrated and analyzed to support the business decisions of farm operators and agribusinesses.
The insights into the day to day operations and activities of a farm can be provided and tracked.
Tools are provided by the software to improve production efficiency and profitability of a farm.
The progress of field workers can be tracked and monitored as well as in-field communication and collaboration can be facilitated.
Crop management functionality can be offered.
It can coexist with other agriculture or agribusiness solutions.
As your field data of operation can be connected to your finances, you can better manage risk, control costs and improve profitability.
All activities on your farm including tillage, planting, crop protection, fertilization, irrigation, harvesting and more can be managed very easily with a few clicks.
Input usage quantities, costs and work hours for every activity can be tracked which helps improving your productivity.
An instant overview of a 7 day weather forecast or 3 year history for every field can be provided by Weather Monitoring.
Farmers are alarmed for any kind of risk related to insect pest or disease occurrence on their fields by advanced detection algorithms included in pest detection.
On time protection can be applied with the help of advanced insect pest and disease risk detection to increase yeild.
The farm financial records and documents can be kept in one single place. Sales, expenses and capital investments can be tracked and allocated them to each crop production.
You will never miss your payments with due date alarms that remind you which incoming and outgoing payments are expected.
You can keep a control over your resources by central registry of employees, seasonal workers, machinery, and fields.
You can avoid low inventory bottlenecks by real time inventory status per warehouse and bin that help keep your operations running smoothly.
ROI for every crop production can be identified by identifying the cause for crops that grow better on some fields and the exact cost per kg/lb for every variety per field.
You can get all important data including weekly tasks for every person, legislative reports and your performance analysis in PDF, Excel or Word formats with built-in reports.
Offering Farm Management Software?
Customers in the market for Farm Management Software are actively browsing on SaaSUncovered. Be certain they come across your Farm Management Software.
Get Listed