Find Best
Dashboard Software

for Your Business

We help you find the right Dashboard Software for your business.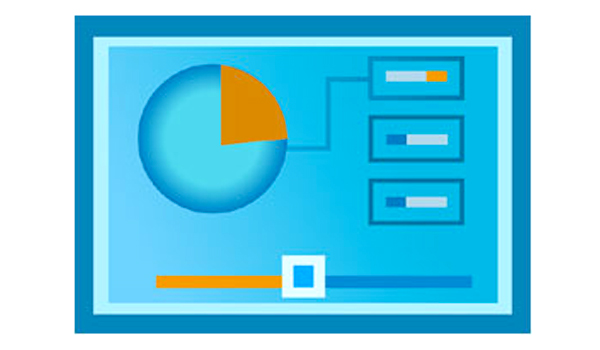 Browse Popular Dashboard Software
Up-to-date listing of Dashboard Software to assist you throughout your software selection and purchase journey.
Dashboard Software:
Dashboard Software is a software that is used to provide at a glance view of key performance indicator of a business such as sales, marketing, HR and production.
Dashboard is displayed on a web page which is linked to a database to provide updated reports. A visual presentation of performance measures in terms of graphs can be provided by the software. The software has the ability to identify negative trends so that corrective measures can be taken for improving efficiency and effectiveness. The detailed report showing new trends will help you to make more informed decision based on collected business intelligence.
Dashboard software is used to track, collect, and display business data in interactive and customizable visualizations that help the users to monitor the health of a business and analyze processes. It also help provide them with actionable insights.
Benefits of Dashboard Software:
The benefits of Dashboard Software include:
Charts and automated reports can be created by anyone in your team and shared with the right decision makers.
Data can be discovered, visualized, presented and shared by any team member, from CEO to junior manager at any time and the way they want to.
All your key performance indicators can be viewed from a centralized location, on a single screen.
Flat files, CRM as well as ERP data, databases, helpdesk, social media, and many more can be easily connected that will provide you with instant access to all the business information you might gather and need to analyze.
You can gain a a consistent, unified view of your business metrics by exploring your datasets with the help of a KPI dashboard without the support or additional assistance from other departments.
With a drag and drop interface, you can explore the data on your own which empowers you to create and analyze your own dashboard. You can simply select the desired chart, and dropping it onto the required area without writing a single line of SQL code.
Data can be immediately visualized by online data analysis tools, and you don't need to wait for hours or days for the analysis.
The activity that happens throughout your business processes can be monitored and charts and reports are updated continuously in less than a second after the action occurs. So you get all real time updates when you need to look at the report.
The software is accessible from anywhere, and at any time with the help of an Internet connection. You can safely explore your data from any located using either a laptop, tablet, or even mobile phone with high security. So, business questions can be answered immediately, analysis can be performed instantly, and expensive in-house IT management and maintenance can be avoided.
You will be able to minimize risks, and improve your decision making processes as well as the overall business efficiency by establishing data-driven workflows.
Each employee can take decisions on the right information, at the right time as guesswork is completely eliminated which help increasing organizational efficiency.
A data driven culture can be created by the dashboard software that only bring positive results to the business.
The software help increase in business efficiency as most of the manual task is reduced. All urgent business questions can be answered quickly that will enable you to cut even more hours while focusing on other burning questions.
You will get alert if a business anomaly occurs or a specific goal is met. So, you can take immediate action and prevent a business disaster or celebrate your newly reached goals. The neural networks, pattern recognition or threshold alerts will help you spot trends and identify patterns, notifying you on important changes even on your mobile.
Offering Dashboard Software?
Customers in the market for Dashboard Software are actively browsing on SaaSUncovered. Be certain they come across your Dashboard Software.
Get Listed